Here at Cynard Eye Clinic, we understand the critical role your eyes play in your daily life and that is why caring for your vision is our priority.
Founded in January 2008, Cynard Eye Clinic has since evolved into a leading eye care provider in Nigeria through the delivery of quality eye care services while placing emphasis on ethics, excellence, research, technology and the comfort of our patients.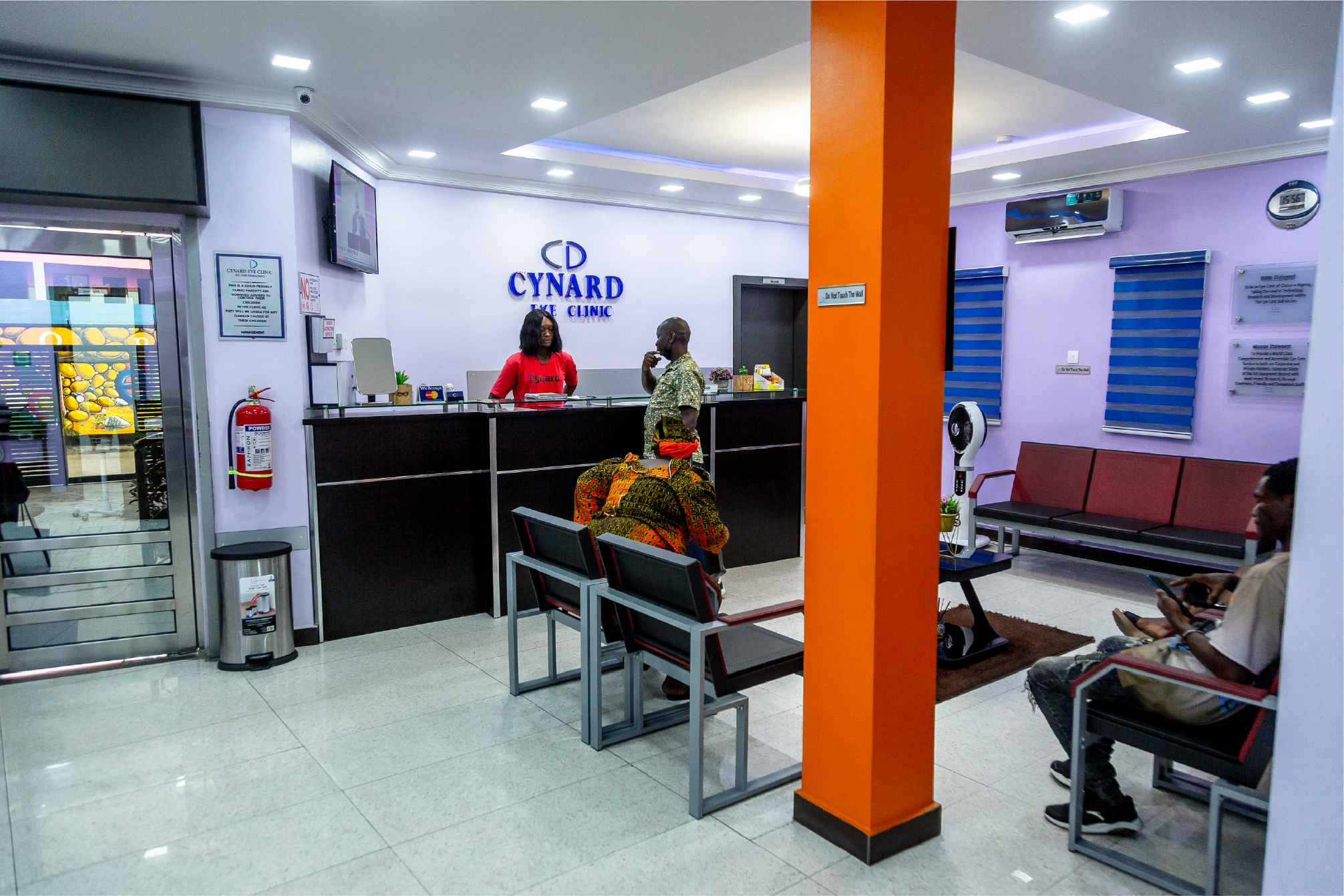 Our patients' security, comfort and satisfaction are key to our practice at Cynard Eye Clinic. Our environment is very well secured. The clinic has a cozy reception, state-of-the art consulting rooms and theatre, a furnished children's lounge, a comfortable post-surgical recovery room, a pharmacy, an optical workshop, a conference room and very clean male and female conveniences.
We have in stock a wide array of frames ranging from optical frames, safety goggles, sports frames, to sunglasses suitable for every class of people.
Corporate Social Responsibility
Cynard Eye Clinic has helped provide visual care to members of various communities and students across different schools.
We aim to continue giving back to the society by engaging in programs that will provide eye care to those who may not have readily accessed them.
CYNARD EYE CLINIC is managed by Dr. Igilige Ijeoma (a Primary Eyecare Consultant).
Helped by our highly effective administrative team, our clinical staff comprises a consulting ophthalmologist, specialists and optometrists.
The in-house optician ensures a speedy dispensing of your optical devices.
Our friendly and competent staff are dedicated to your care and comfort throughout your visit with us.
Over 14 years of experience in the eye care health subsector is no fluke. You can trust our team of a consulting ophthalmologist, specialists, optometrists and an in-house optician to provide the best possible eye care service for you and your loved ones.
All our branches are interconnected to a unified database; so, you will access the same level of care regardless of the branch you visit.
You will choose us as your eye care service provider because we back up our experience with the most recent technology to best diagnose eye care conditions in the shortest possible time
We take pride in providing high-quality services guided by the latest research and technology to ensure that all our clients and patients receive the best possible eye and vision care.